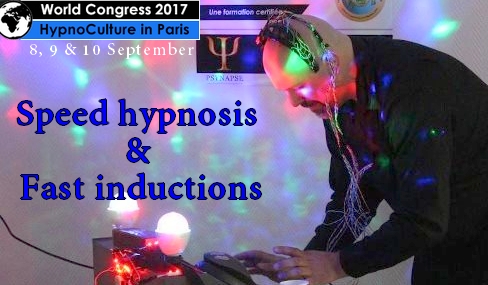 We often compare Speed Hypnosis and Street Hypnosis. Although those techniques may seem similar, the approach of fast inductions, allows many clients to find a deep quick trance level.
Based on the approach of Dave Elmann and Milton Erickson and used by many therapists such as Richard Bandler and Jerry Kein, the use of fast induction techniques, on the right moment, will enable you to save time on a therapeutic set.
Plus, using this playful approach with teenagers, allows you to start your work with a more relaxed approach, which is different from traditional inductions.
During this workshop, you will revisit suggestibility, and you will be able to experiment some rapid inductions, such as 'the Bandler Handshake', the 'Crystal Skull', 'The inductions of Elmann', and a lot of other ones.
Christophe Kindbeiter:
Christophe has been on the field of training and management companies, for more than 20 years. He is now a therapist and a teacher at the Psynapse Institute, in France (Psynapse.fr).
Passionate about every form of therapies, in conformity with human nature and ecology, Christophe has based his practice on experimentation.
Wanderer within the field of therapy, he has an inexhaustible thirst for old techniques, as well as for new technology and neuroscience.
No matter which type of hypnosis this is, there is only one hypnosis, the one that defines the patient's trance.